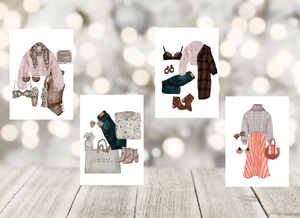 A Glittery Life Plans
A/W 2022 Fashion Premium Cloud Vellum Dashboards
Regular price
$11.50
$0.00
Unit price
per
 Here is the perfect set of dashboards for your Autumn and Winter Planner set up.
This set of dashboards is printed on premium cloud vellum, which is a mid weight vellum with great color saturation.
Make sure to check out the. 2 sets of coordinating vellums: floral outlines and birds and flowers.  Pair them all together for the perfect layers in your planner.
All dashboards come unpunched.
Please select one of the following size options from the drop down menu.
A note to TN users: since these are a card stock it's an insert not a wrap sheet of vellum. So it can be inserted into your TN with washi tape, clips, rivets etc.

Available in the following sizes and styles (please choose yours from the dropdown menu): Pocket - Pocket Wide- A6 - Personal - B6 - A5 - Personal Wide Rings -Mini HP - Classic HP- Half Letter
Due to slight monitor variations the colors may vary or look slightly different in person. For odd sized inserts such as Personal and A5 wide there may be a difference in how the print looks on that size.  I do my best to make it fit and to keep the perspective as normal as possible.  Due to the handmade nature of these papers very small imperfections may occur.  Ie: centering and sizing. By ordering these you are acknowledging you understand that. I do my best to minimize that as much as possible. For example some minor size imperfections may occur in the cutting process but I do my best to make sure your order will be as perfect as possible! I don't accept returns or cancelations.
---